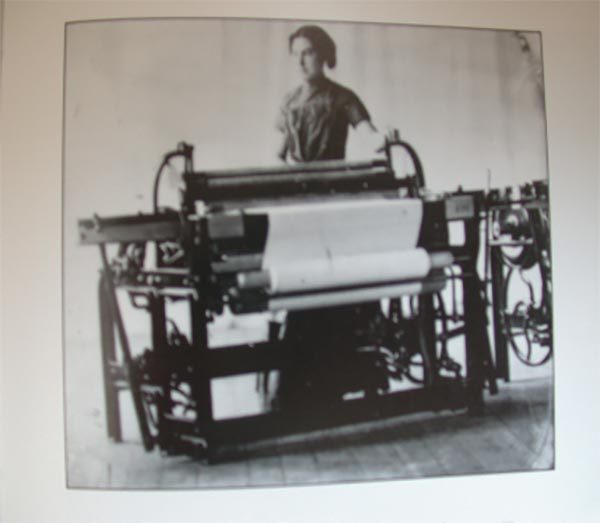 July 27, 28 and 29, 2018, at the Marshfield School of Weaving, Marshfield VT
The Textile History Forum is an open forum for anyone doing research on any aspect of the study of textiles from prehistory to present day. For 2018, we are meeting at the Marshfield School of Weaving and will be especially interested in papers and presentations that relate to textile tools, textile process and textile availability. The Marshfield School has acquired many spinning wheels, looms and small tools from the dissolution of the American Museum of Textile History. Demonstration and research related to these tools will be part of the Forum, as well.
The Textile History Forum, which began in 1990's is an informal but intense weekend of papers, demonstrations and works-in-progress open to any one interested in and enthusiastic about textiles, textile tools and material culture.
Written papers are published in our Proceedings at the time of the Forum, and are given to all participants as part of the Forum's philosophy that discussion and active participation with others is the best way to explore our interests and further our research. Authors retain copyright of their papers and are free to publish elsewhere. Works-in-Progress and non-paper presentations are also included in the Proceedings.
Presenters from all areas of textile interests are encouraged to share their research; no formal academic credentials are necessary. We encourage anyone to submit a short one page abstract for review by January 15, 2018. Selected papers and details of presentations are due May 15, 2018.
In the past, the Forum has included papers about prehistoric footwear, contemporary fashion designers, historic dye analysis, ingrain carpet factories, coverlet weavers of Ohio, rose blankets, glove making, knitting traditions, weaving in Ecuador on traditional card looms, quilts, reed making, corsets and undergarments, white work, textile tools, labor in early mills, textile production in Lowell and much more.
S. Rabbit Goody began the Textile History Forum in response to the Dublin Seminar on New England Culture in the late 1990's. It has met every few years since and published papers in the Proceedings, which is available to participants, libraries and by purchase to the public. The intent of the Forum is to encourage new voices to share their research in a scholarly but non-academic setting. At this upcoming Forum, we especially encourage those who have been doing research in traditional hand process to share what they know so that traditions are not lost. We learn more from each other and we learn the most over a good lunch!
Please think about presenting a paper or works-in-progress at the Textile History Forum at the Marshfield School of Weaving July 27 – 29, 2018.