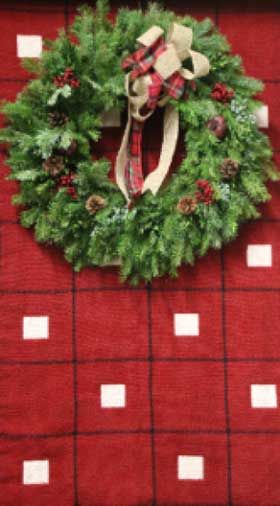 The Workshop of Rabbit Goody welcomes you to our Annual Open House and Mill Tours on December 2nd and 3rd, from 9am to 5pm.
Watch our antique looms run!
We have been working on some interesting projects this year. Join us and we will lead you through our process and let you experience a rare custom weaving mill still using looms made over 100 years ago.
Our showroom will have fabrics, scarves, shawls, hand towels and carpet just right for the holiday season.
Drink a toast with us, spread some cheer and learn about our traditional trade.
Our showroom will be open through out the holiday season, weekdays from 9am to 5pm. Our luxurious over-run fabric can be made into custom gifts and we have special items ready for your gift giving needs.
Meet the folks who can still make historic textiles! Laura, John, Vicky, Lisa, Frank, Holly and Rabbit Goody love sharing what we do, so please join us for the Open House or anytime during the Holiday Season.